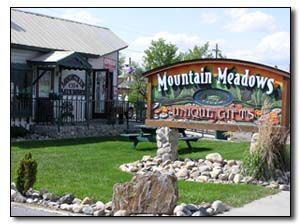 We honor MasterCard, Visa and Discover credit cards.
STORE HOURS:
Monday through Saturday
9:00 AM to 7:00 PM
406-293-9241
Welcome to Mountain Meadows Gift Shop!
We are located right on Highway 2 on the south end in Libby, Montana, 1314 Minnesota Ave. We carry gift items, Montana & Libby t-shirts, jewelry, and coffees. We make custom gift baskets to fit your gift-giving needs. In a hurry? Grab a cup of coffee at our Drive-Thr

WANT TO SEND THAT SPECIAL SOMEONE IN LIBBY A GIFT??? WE WILL HELP YOU PICK IT OUT VIA PHONE LINE AND DELIVER FOR FREE!!

Click on the links above to scroll through this website for our online catalog and products we currently offer.

Please call 406-293-9241 to order any of the items on this website. Reach us via e-mail at: sales@mountainmeadowsgifts.com.

If you would like to be on our E-mail Alert list when we update our site with new products, please send us a note with the e-mail address where to reach you. We'll let you know when we put up new items you're looking for!